The Library & Museum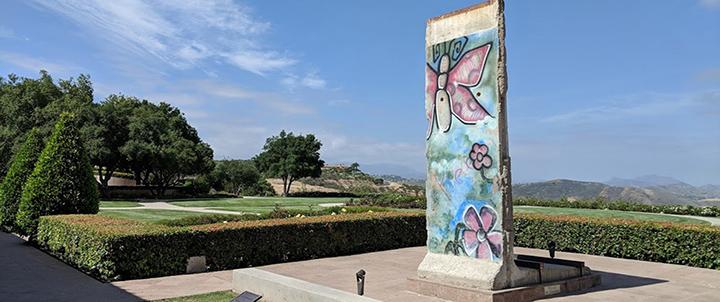 The Ronald Reagan Presidential Library and Museum sits on a high hill with sweeping views of the surrounding mountains, valleys and the Pacific Ocean. The Library is one of California's beautiful and unique destinations.
The Library's 300 acre site, about 45 miles from Los Angeles International Airport (LAX), stands in for the "shining city on a hill" often referenced by President Reagan. The Library grounds serves as the final resting place of the nation's 40th President, and his wife, First Lady Nancy Reagan.
In addition to the Museum , the Reagan Library, as a Presidential library administered by the National Archives and Records Administration (NARA) under the authority of the Presidential Records Act, is the repository of presidential records for President Reagan's administration. Our holdings include over 60 million pages of documents, over 1.6 million photographs, a half million feet of motion picture film and tens of thousands of audio and video tapes. Additionally, the Library houses personal paper collections including documents from Ronald Reagan's eight years as governor of California.
The Reagan Presidential Library offers research support to scholars and students alike, curates many special exhibits, manages the collections, and provides robust educational programming for students of all ages including the Situation Room Experience with live role-playing simulations.
---
The Ronald Reagan Presidential Library & Museum is the 11th Presidential Library in the National Archives and Records Administration (NARA) library system. NARA is a federal agency providing the annual operating budget for the Library and archival, museum and educational staffing for the Library and its holdings.

The Ronald Reagan Presidential Foundation and Institute is a nonprofit, non-partisan organization dedicated to the preservation and promotion of the legacy of Ronald Reagan.   It assists in sustaining the Ronald Reagan Presidential Library and Museum. It fully sustains the Ronald Reagan Institute, the Reagan Center for Public Affairs, the Walter and Leonore Annenberg Presidential Learning Center, The Air Force One Pavilion and the Air Force One Discovery Center.

Play an essential and dynamic role in the programs of the Reagan Library and volunteer! Whether furthering the legacy of President Reagan or helping out with education or archives programs, be a part of an active group of volunteers.
---