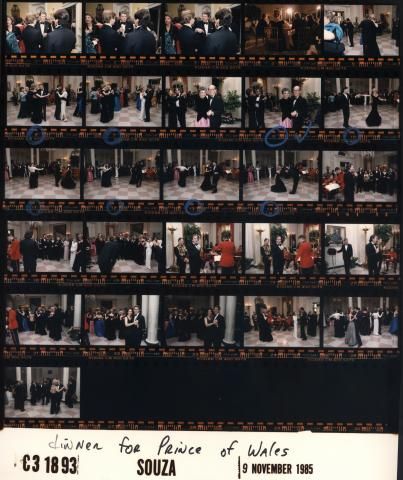 White House Photographic Office 1981-89 (circa 1,550,550 photos)
This collection consists of color and black and white photographs taken by White House Photographers. The photographs are arranged chronologically and document the daily activities of President Reagan and Nancy Reagan. Included are Foreign trips, Rancho Del Cielo trips and Camp David trips, Staff meetings and press briefings, meetings with Heads of State. The primary White House Photographers for this collection are: Michael Evans, Bill Fitz-Patrick, Jack Kightlinger, Karl Schumacher, Mary Anne Fackelman, Pete Souza, Terry Arthur and Susan Biddle. Michael Evans was Personal Photographer to the President, 1981-85. The collection is covered by the Freedom of Information Act. The entire collection has been processed and the majority of photographs are open for research and duplication.  View select large digitized images from the White House photo collection on our Gallery pages.
White House Photograph Collection Contact Sheets: Complete Inventory
Please specify roll#, date and photo number in request. "Personal Reference" refers to people in all or part of the roll. Black and White (BW) photos are listed first in the complete inventory. The "Photo Numbers" in the inventory refer to the images that contain specific descriptive information. All photographs can be ordered in high resolution from the original negatives. Please use the search bar in the upper right corner of the page to search the collection. Use the "Audio Visual Filter" in your searches.
Please use the following links to order high resolution digital photos (from the original negatives)
Order Form (pdf format)