Click on Thumbnails below for larger images which are all available in higher resolution. For use of Reagan Library audiovisual materials please read the AV disclaimer.
Order Form
Order Information and Pricing
Main White House Photograph Collection Galleries Page
---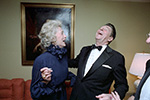 C595-21A, President laughing with Gloria Stewart at Wick's Dinner party at Watergate Hotel Washington, DC. 02/07/1981.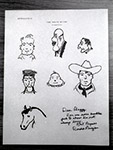 4899-1A, President Reagan's Doodles. 11/03/1981.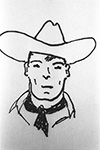 4899-22A, One of President Reagan's Doodles. 11/03/1981.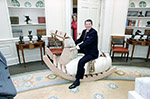 C5958-26, President Reagan riding a wooden horse in the Oval Office with Shirley Moore looking in. 01/20/1982.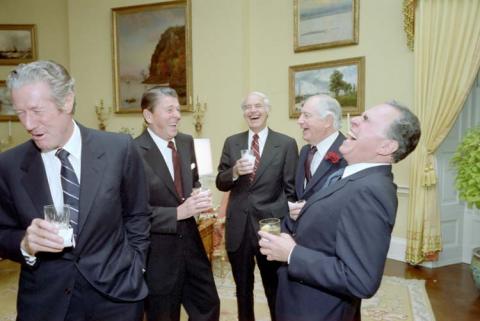 C10382-15A, President Reagan laughing with William Wilson, Walter Annenberg, William French Smith, and Charles Wick during a private dinner in the Yellow Oval Room. 09/29/1982.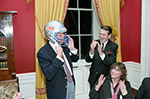 C10916-20, President Reagan wearing football helmet during a Private Dinner and movie showing of "Knute Rockne" with George Allen in the Red Room. 10/24/1982.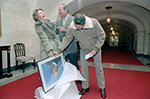 C12876-7A, President Reagan and Nancy Reagan with James Baker laughing at a framed portrait of James Baker on the ground floor corridor. 02/04/1983.

 C14686-14A, President Reagan laughing at a photograph during an Interview with United Press International UPI in oval office. 05/19/1983.

C18587-24, President Reagan aiming a rifle at a window while flying aboard Air Force One during trip to California. 11/23/1983.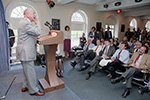 C20804-9, Mel Blanc, creator of many cartoon voices including "Buggs Bunny" and "Porky Pig", in the press briefing room with Sam Donaldson and William Plante looking on. 03/30/1984.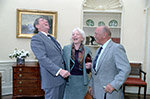 C20806-8A, President Reagan with voice actor Mel Blanc and Estelle Blanc in the Oval Office. 03/30/1984.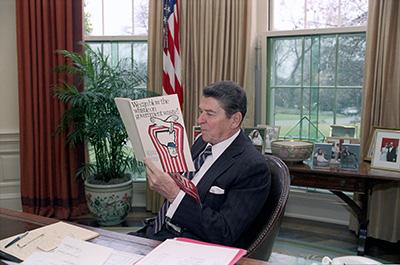 C26437-5A, President Reagan reading at book "We can blow the whistle on Government waste" in the Oval Office. 12/10/1984.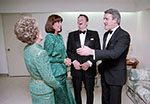 C27779-24, President Reagan and Nancy Reagan laughing with Prime Minister Brian Mulroney and Mila Mulroney during a Gala Performance at the Grand Theatre de Quebec in Quebec city, Canada. 03/17/1985.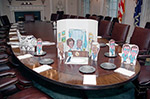 C30397-2, A card of the Oval Office with caricatures of the Reagan's, Tip O'Neill, Secret Service members and Air Force One and others on the table in the Cabinet Room. 07/26/1985.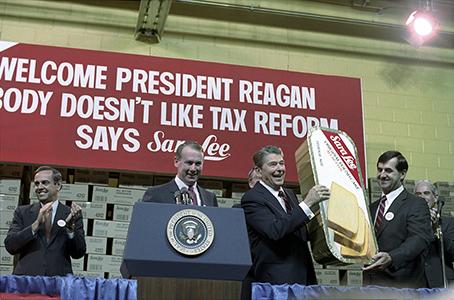 C31346-5A, President Reagan's remarks at Sara Lee Kitchens and accepting a giant coffee cake, Deerfield, Illinois. 10/10/1985.

C34499-16, President Reagan receiving gift from his secretary Kathy Osborne (Boss of the Year banner) at White House. 04/24/1986.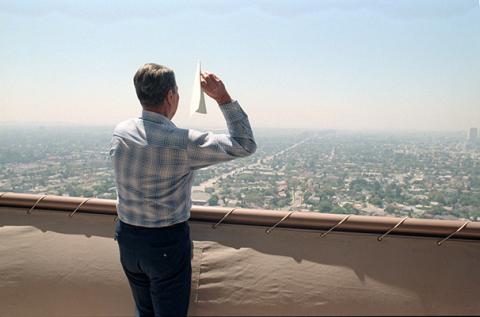 C36694-27, President Reagan throwing paper airplane from balcony at Century Plaza Hotel in Los Angeles, California. 08/29/1986.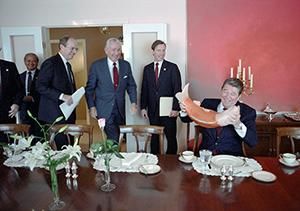 C37432-13, President Reagan jokingly eating a fake fish during a lunch at the U.S. Ambasadors residence, with Donald Regan, Dennis Thomas, David Chew and Jim Kuhn in Reykjavik, Iceland. 10/12/1986.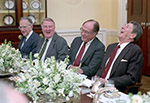 C38116-29, President Reagan laughing while hosting a lunch in honor of the United States Supreme Court Justices with Ed Meese and William Rehnquist in the Family Dining Room. 11/25/1986.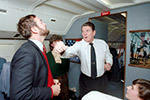 C38147-7, President Reagan faking a punch to Congressman Dana Rohrabacher aboard Air Force One and trip to California. 11/26/1986.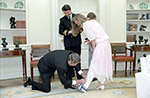 C40638-21, President Reagan signing Chantal LeBretons leg cast during a farewell photo opportunity with William J. Perry departing director Latin American Affairs National Security Council in the oval office. 05/12/1987.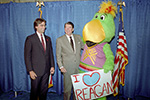 C41740-28, President Reagan posing with a mascot at Indianapolis Convention Center, Indianapolis, Indiana.. 07/13/1987.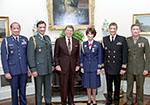 C42097-14, President Reagan during a photo opportunity with White House Military Aides (left to right: Stephen Chealander, Ronald Thomas, Vivien Crea, James Quinn, Duane Hegna imitating the President's recent nose bandage) in the Oval Office. 08/06/1987.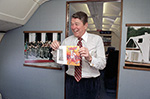 C42308-23, President Reagan holding up a humorus card aboard Air Force One on a trip to Kansas. 09/06/1987.

C42455-20, Photo Op. with Congressman Curt Weldon and his Family in oval office. 09/14/1987.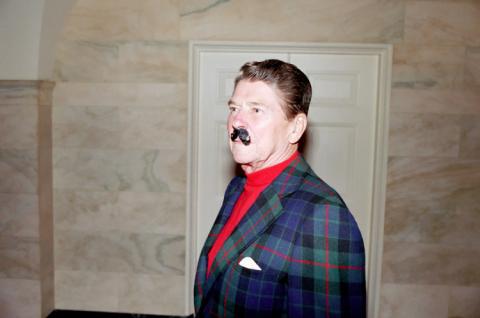 C42660-21, President Reagan wearing a fake mustache during Congressional Barbecue. 09/23/1987.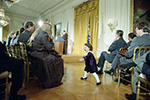 C43356-31, President Reagan Announcing the nomination of Judge Douglas Ginsburg to be an Associate Justice of the United States Supreme Court with his child Halle Ginsburg "disrupting" the event in the East Room. 10/29/1987.
C49639-20, President Reagan posing with a cardboard cutout of himself at the Sheraton Hotel in Washington, DC. 10/03/1988.

C47089-23A, President Reagan taking Nancy Reagan's photograph before attending the White House News Photographers' Association Dinner at the Sheraton Washington Hotel. 05/19/1988.

C49852-15, President Reagan wearing an anti-Dukakis mask at oval office desk. 10/14/1988.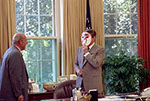 C49875-2, President Reagan showing George Shullz an anti-Dukakis mask in oval office. 10/14/1988.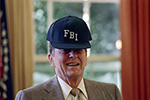 C50091-36, President Reagan wearing a FBI baseball cap in the Oval Office. 10/26/1988.

C50297-15, President Reagan with the San Diego "Chicken" at a campaign stop at the San Diego Convention Center, San Diego, California. 11/07/1988.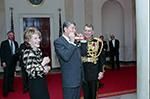 C51610-28, President Reagan playing with a harmonica while at a White House Staff Farewell Ceremony, with Nancy Reagan and Colonel John Bourgeois in the cross hall. 01/18/1989.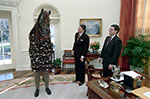 C51617-18, A Fake Horse pays a visit to President Reagan and Chief of Staff Kenneth Duberstein in the Oval Office. 01/19/1989.
---