​​​​​​1967-1968 Photographs of the Governor years donated by a former Gubernatorial administration staff member.
Thumbnails below link to larger images. For use of Reagan Library audiovisual materials please read the AV disclaimer.
Order Form
Order Information and Pricing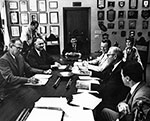 KD70, Governor Reagan having an Executive Director's meeting with Norman Livermore Gordon Luce, Arthur Van Court, unidentified woman, Spencer Williams, Earl Coke and Caspar Weinberger in his office in Sacramento, California, 1967-68.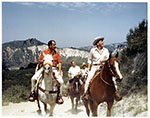 KD183, Governor Reagan during a Rancheros Horseback Ride in Santa Barbara with Arthur Van Court. 6/1967.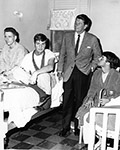 KD112, Governor Reagan with patients military veterans at Oak Knoll Hospital in California. 4/1968.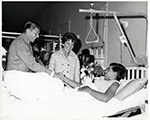 KD114, Governor Reagan and Nancy Reagan with a military veteran at the Oak Knoll Hospital in California. 4/1968.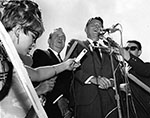 KD79, Governor Reagan speaking to the press with with Governor Jim Rhodes of Ohio behind, 6/1968.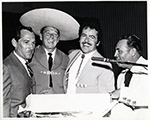 KD128, Governor Reagan receiving a traditional Mexican Mariachi outfit from unidentified people, 1967-68.