Student Activities
Fall of the Berlin Wall Curriculum
In Commemoration of the 20th Anniversary of the Fall of the Berlin Wall, use this classroom ready curriculum to invite students to think about the walls that exist in our world today. 
Fall of the Berlin Wall Curriculum - 4th Grade and Above
The Search for Bonnie and Clyde Game
In this game designed by the Reagan Library Education Team, students will take on the roles of FBI agents as they solve puzzles to locate the notorious Bonnie and Clyde.
The History of the Voting Rights Act
In this series of articles, explore the history of the voting rights act, from the founding of our nation to modern times.
Click here to view the articles
Constitutional Amendments
In this series of articles, explore the history of how our constitution has changed and evolved over the years through the amendment process.
---
Media Literacy: Truth and the News
For teachers, representatives from the Johnson and Reagan Libraries roll out and share media literacy curriculum created using both contemporary and historical documents from the National Archives and Records Administration. The curriculum is classroom-ready and designed to be used to help students identify and recognize bias in media. 
---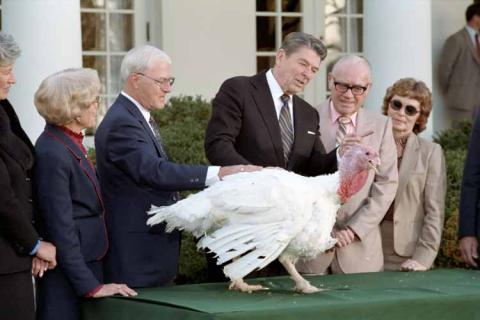 National Holiday Curriculum
Educators can delve into primary source documents directly from the Ronald Reagan Presidential Archives and work with Reagan Library educators to create a published guide for teachers. 
The Reagan Library education department creates a collection of document-based curriculum to enhance any commemoration or celebration of National Holidays.
Constitution Day (Download both files as a .zip archive.
Presidents Day (Download both files as a .zip archive.
Martin Luther King Jr. Day (Download all 5 files as a .zip archive.
Thanksgiving Proclamation 
---
Immigration Policy: From the Source
SUPPORTING DOCUMENTS AND ACTIVITIES
America is a country of immigrants.  Yet, immigration policy remains one of our most pressing issues.  Take a look at the immigration debate in the 1980s by exploring the making of the last major piece of federal immigration legislation – the Immigration and Reform Act of 1986.
---