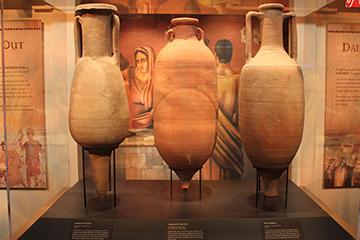 Around mid-morning on August 24, 79 A.D., Mount Vesuvius erupted.  Molten rock and pumice were expelled from Mt. Vesuvius at a rate of 1.5 million tons per second.  Rocks and volcanic ash filled the atmosphere, turning day into night.  Within 24 hours, the Roman city of Pompeii lay destroyed – and perfectly preserved – under 15 feet of ash and volcanic debris.  It is estimated that about 16,000 people died in the eruption. 
In 1748 when explorers examined the site, they found that the volcanic ash had acted as a preservative, and many of the buildings and even the skeletons and remnants of city life were still intact. This city frozen in time provided historians with a glimpse into what life was like in ancient Rome.
Pompeii: The Exhibition, opening October 6, 2018 at the Ronald Reagan Presidential Library and Museum, features over 150 authentic artifacts on loan from the renowned Naples National Archaeological Museum in Italy.  These are not replicas, but rather original, 2,000-year-old objects that were preserved in the ash.  These artifacts include wall-sized frescos, marble and bronze sculptures, jewelry, ancient Roman coins, and full body casts of the volcano's victims.
These artifacts, set in scenic depictions of their original surroundings, tell the tale of the bustling city of Pompeii, hidden from view and forgotten for centuries until its rediscovery over 250 years ago. The catastrophic power of volcanoes is also illustrated through an immersive CGI experience of the eruption of Mount Vesuvius. The impact and devastation is evidenced by full body casts (plaster casts made from the hollows left in the ash that hardened around the now disintegrated bodies of the victims, found upon excavation), eerily preserved in their final moments.
EXHIBITION HIGHLIGHTS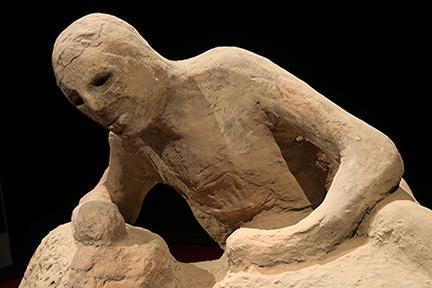 The exhibition's media-rich, immersive experience transports visitors back in time to 79 A.D. where they will embark on a journey through the ancient city, culminating with the fateful morning of the eruption. They will learn how Pompeii was a bustling commercial port and strategic military and trading center, while its neighbor Herculaneum, also buried by Vesuvius, was an exclusive Mediterranean resort. Artifacts bring this world to life as visitors discover how its people lived, loved, worked and worshipped.
Included among the more than 150 authentic artifacts are: mosaics and frescoes, gladiator armor, weapons, a ship's anchor, ceramics, plates, furniture, jewelry, medical instruments and tools.
A simulated 4-D Eruption Theater experience allows visitors to experience the devastating impact Mount Vesuvius had on Pompeii, culminating in the reveal of full body casts of twisted human forms, asphyxiated by extreme heat and noxious gases.
This not-to-be-missed exhibition is thrilling for adults and appropriate for the whole family. Additionally, archaeological details present a unique record of Pompeii's daily life including roads, buildings, and municipal services.