Titanic at the Reagan Library is a fascinating look at Titanic, combining real artifacts with the real stories of the people onboard the ill-fated ship.
This new exhibit tells the story of the unsinkable ship in a way no museum has done before. Artifacts from passengers, dispersed over time, will be reunited in this exhibit for the first time in over 100 years.
EXHIBITION HIGHLIGHTS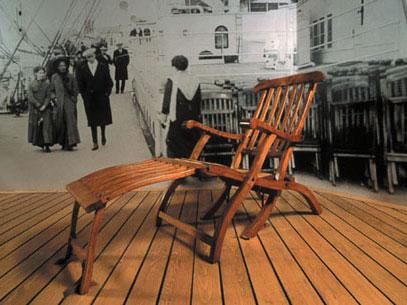 A deck chair from the Titanic, one of only eight known to exist, as well as the only known "widows seat" deck chair from Carpathia.
Sheet music for "Narcissus" which was found on the body of Wallace Hartley, the musician who continued to play his violin, even as the ship was sinking.
The only known complete set of boarding documents and tickets from the Titanic.
A pocket watch from an unknown 3rd class victim who was buried at sea.
The Claim Form of the "Unsinkable" Molly (Margaret) Brown and other passengers and relatives, for loss of life and property.
Movie sets, props and costumes from 20th Century Fox's Oscar-winning "Titanic" movie
Wreck wood from Titanic.