I mentioned to Mr. Gorbachev how much I would like him to visit the United States. So, I invited him, and he said, ``I accept.'' And then he told me how much he'd like me to see the Soviet Union. So, he invited me, and I said, ``I accept.'' And there it was, as simple as that. So, face-to-face talks can be helpful.

President Ronald Reagan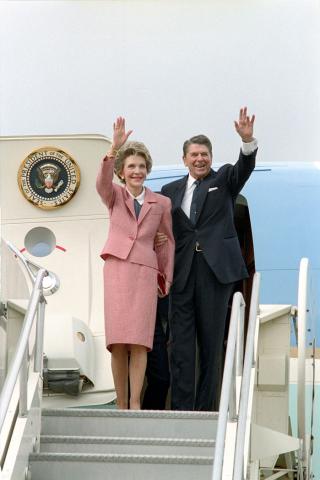 Opening in 2005, the Air Force One Pavilion features multiple historic Presidential transportation exhibits and the Annenberg Discovery Learning Center.
Visitors walk through Air Force One, the "Flying White House" for President Reagan and six other U.S. presidents from 1973-2001.  The interior of a Marine One helicopter and an actual presidential motorcade featuring President Reagan's 1984 parade limousine round out our Presidential transportation exhibits. 
The upper floor of this three-floor exhibit starts with the Mezzanine Gallery. Here we highlight President Reagan's face-to-face diplomacy with world leaders on economic relations, strategic relations and arms control as he travels on Air Force One. The Secret Service and their role in protecting the President while he travels displays on a gallery wall on this level.
The second floor focuses on the history of Air Force One with Stan Stokes' mural, History of the Flying White House, featuring aircraft from FDR's Dixie Clipper to the current Boeing 747.  It also showcases President Reagan's presidential parade limousine and a Secret Service motorcade.  
The lower floor, or Marine One Gallery, showcases President Lyndon Johnson's Marine One helicopter. Visitors can also enjoy refreshments in the "Ronald Reagan Pub" - an actual Irish pub which was donated to the Library from Reagan's ancestral Irish village of Ballyporeen, Ireland.