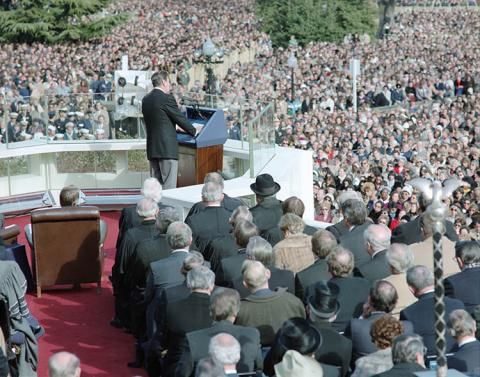 Singer: Juanita Booker (amateur singer from Los Angeles)
Invocation and Benediction: Rev. Donn Moomaw, Senior Pastor, Bel Air Presbyterian Church (his prayers)
This was the first Inaugural ceremony to be held at the West Front of the U.S. Capitol. (All previous Inaugurations at the Capitol had used the East Front.)
---
Second Inauguration as President (January 21, 1985)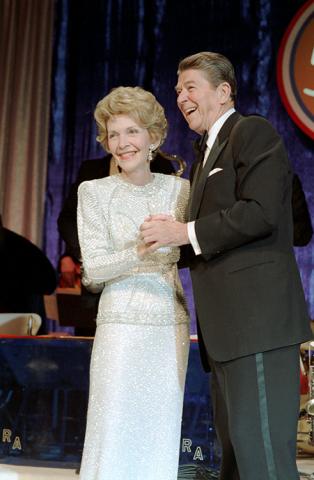 Invocation: Rev. Timothy Healy, S.J. (President, Georgetown University)
Singer: Jesse Norman
Prayers: After Ms. Norman's song: Rabbi Alfred Gottschalk (President, Hebrew Union College, Cincinnati)
Just prior to the swearing-in: Rev. Donn Moomaw (Senior Pastor, Bel Air Presbyterian Church)
Benediction: Rev. Peter Gomes (Chaplain, Harvard University)
There was no poem read at either Inaugural.
Inauguration day is set by law as January 20, 1985, but if it falls on a Sunday as it did in 1985, the public celebrations are moved to Monday. The pubic Inauguration for 1985 was held on January 21, 1985. To be in compliance with the law, a small, private ceremony was held within the White House to inaugurate President Reagan on the proper day.
The 1985 Inauguration occurred during a severe cold snap on the East coast. The decision was made to cancel the outdoor public events for the Inauguration so there was no ceremony outdoors and the Inaugural parade was cancelled. President Reagan held his public Inaugural within the U.S. Capitol building rotunda.