1911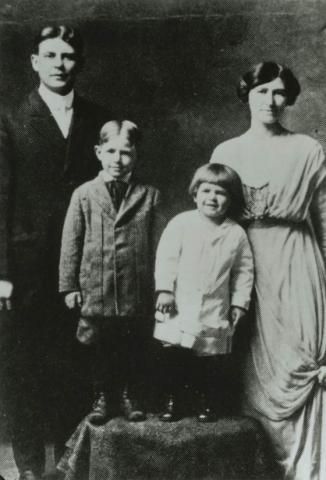 02/06/1911   Born in Tampico, IL to Jack and Nelle Reagan.  His older brother Neil [Moon] was born in 1908.
1920
12/06/1920 After a series of homes in Illinois: Chicago, Galesburg, Monmouth, and Tampico, the Reagans settled in Dixon, IL. Ronald Reagan always considered Dixon as his home town.
1926
Summer Young Ronald Reagan worked his first job at Lowell Park in Dixon as a lifeguard on the Rock River. In the next seven summers he was credited with saving seventy-seven lives.
1928
June Reagan graduated from Dixon High School, where he participated in basketball, drama, football and track. Showing early leadership ability, he also served as student body president.
Fall 1928-June 1932 Reagan attended Eureka (Illinois) College, a small liberal arts institution, and majored in economics and sociology. During his sophomore year, Reagan became interested in drama.
1932
June Reagan graduated from Eureka College with a B.A. degree in Economics and Sociology. He participated in drama, football and swimming. Once again, his young leadership ability was evident as he served as student body president and helped organize a student strike. During this time, Reagan was a committed Democrat. Franklin Delano Roosevelt's populist rhetoric appealed to Reagan and later influenced Reagan's speaking style.
Fall Reagan, along with his father, supported Franklin D. Roosevelt for President. Reagan continually looks for work as a new college graduate.
December Reagan was hired as a temporary staff announcer at radio station WOC in Davenport, Iowa. His temporary post was completed, but the station, and listeners like him so much he was brought back as a full-time sports announcer.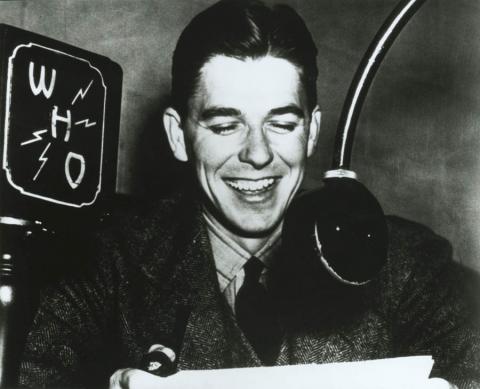 1933
April WOC Radio merged with WHO Radio in Des Moines, Iowa and Reagan moved to Des Moines as chief sports announcer and a much wider audience. "Dutch" Reagan narrated Chicago Cub home games based on telegraph reports from Wrigley Field, recreating games from the studio. With the wider reach of WHO, an NBC affiliate, Reagan gained national media exposure.
1935
02/27/1935 Enlisted as a private in the Army Reserve as a Private, Reserve Cavalry Corps.
1937
03/15/1937 While attending Spring training on Catalina Island, California with the Chicago Cubs, Reagan slipped away and screen tested for Warner Bros. Studios. An agent for Warner Bros. "discovered" Reagan in Los Angeles and offered him a seven year contract.
04/20/1937 Reagan signed as a contract player for Warner Bros.
04/27/1937 Still enlisted in the Reserve Corps of Cavalry, Reagan was promoted to Second Lieutenant.
06/07/1937 Reagan reported to the studio for his first motion picture, Love is on the Air.
1940
01/26/1940 Reagan marries fellow Warner Bros. contract actor, Jane Wyman. They met while filming Brother Rat.
September Reagan plays George Gipp in his most acclaimed film, Knute Rockne -- All American.
1941
01/14/1941 Maureen Reagan is born.
09/17/1941 Ronald Reagan becomes an informant for the Federal Bureau of Investigation for the first time, related to his role as a Board Member for the Screen Actors Guild and some difficult labor negotiations and the fear of Communist infiltration of the movie industry.
September Reagan plays Drake McHugh in Kings Row, his most artistically acclaimed role. In this picture, he uttered the line, "Where's the rest of me?" which he later uses as his first autobiography title.
1942
04/19/1942 Reagan is called to active duty and reports to Fort Mason, CA in the San Francisco Bay area. Later the Army transfers and assigns him to the 1st Motion Picture Unit, of the Army Air Forces, in Culver City, CA. Called "Fort Roach," this unit made over 400 training films with Reagan.
1943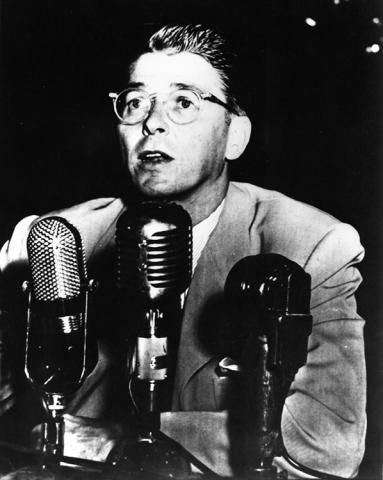 01/14/1943 Promoted to First Lieutenant.
07/22/1943 Promoted to Captain.
1945
02/02/1945 Reagan is recommended for promotion to Major.
03/18/1945 Birth of Reagan and Wyman's adopted son, Michael.
07/17/1945 Promotion to Major disapproved.
08/21/1945 Reagan signs a million dollar contract with Warner Bros. He resumes his acting career after the war. In all, Reagan made fifty-three motion pictures and one television movie.
12/09/1945 Discharged from the Army.
1947
March Reagan is elected President of the Screen Actors Guild (SAG) for the first time. He would be re-elected for five more consecutive one year terms.
06/04/1947 Reagan films That Hagen Girl, his personally least liked role.
10/25/1947 Testified before the House Un-American Activities Committee.
1948
Still an active Democrat, Reagan introduces Harry Truman at a campaign rally in Los Angeles.
1949
06/28/1949 Ronald Reagan and Jane Wyman's divorce is finalized.
1950
Reagan writes guest columns for Victor Riesel, the nationally syndicated labor columnist.
April Supported Democrat and fellow actress Representative Helen Gahagen Douglas for U.S. Senator, but in the fall switched his support to Republican Richard Nixon. This election is known for Nixon's fierce accusations against Rep. Douglas of Communist sympathies. He called her "pink down to her underwear."
12/07/1950 Reagan makes his first television network debut in The Nash Airflyte Theatre. Reagan would eventually have over sixty television credits.
1951
Appeared in Bedtime for Bonzo for Universal.
1952
03/04/1952 Married Nancy Davis.
June Delivered the commencement address, America the Beautiful at William Woods College. Also, played Grover Cleveland Alexander in The Winning Team, his last picture for Warner Bros.
10/21/1952 Patricia Reagan was born.
Fall Campaigned as a Democrat for Eisenhower.
1953
05/02/1953 Named Honorary Mayor of Malibu Lake.
1954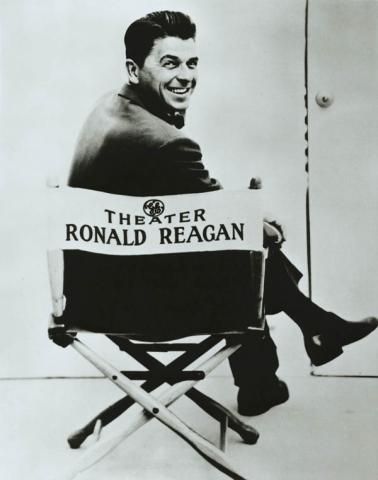 09/26/1954 Reagan's first appearance on GE Theatre. He accepted a job as host and occasional star of GE Theatre, and as spokesman for the General Electric Company. This allowed him to tour the country, giving speeches.
1955
Reagan is named Honorary Mayor of Thousand Oaks, but was disappointed in his unsuccessful bid to be Honorary Mayor of Hollywood.
1956
Reagan campaigned again as a Democrat for Eisenhower.
1957
Filmed Hellcats of the Navy, with Nancy Davis [Reagan], their first and only picture together.
1958
05/20/1958 Ronald Prescott ("Skipper") Reagan was born.
1959
November Elected President of the Screen Actors Guild for the last time.
1960
02/09/1960 Dedication of the Hollywood Walk of Fame on Hollywood Boulevard. Reagan's star is among the original stars that were unveiled on that day.
July After strike negotiations were over, Reagan resigned as President of Screen Actors Guild, and he and Nancy, later, resigned from the Board.
Fall Campaigned for Richard Nixon as a Democrat for Nixon.
1962
02/05/1962 Made a grand jury appearance in the MCA-SAG anti-trust hearing.
March General Electric decided to discontinue GE Theatre because of low ratings. Reagan's last appearance was broadcast on August 26, 1962.
Fall Officially changed his party registration to Republican.
1964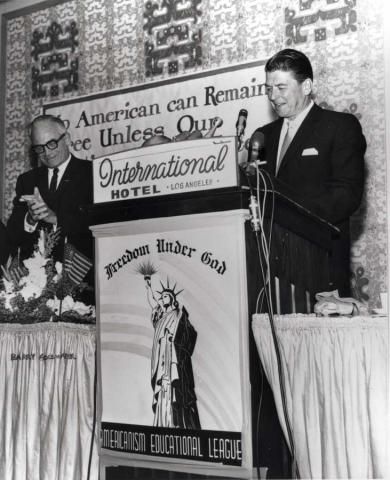 Became host of Death Valley Days, replacing "The Old Ranger," Stanley Andrews. He appeared in or hosted twenty-one episodes, which were broadcast from 1965-1966.
Reagan portrayed the villain in The Killers, his last motion picture. Originally made for television, it was too violent and was released in movie theaters.
10/27/1964 Reagan's televised speech for Barry Goldwater, "A Time for Choosing," launched his political career.
November With the success of "A Time for Choosing," a political support group, "Friends of Ronald Reagan," was formed.
1965
Publication of Reagan's autobiography, Where's the Rest of Me.
Resigned as host of Death Valley Days.
1966
November Reagan defeated Edmund G. "Pat" Brown in a landslide. His success in the election and as governor, made him a leading presidential nomination contender in 1968.
1967
01/02/1967 Reagan inaugurated as Governor of California in a small midnight ceremony.
01/05/1967 Public celebration of Inaugural as Governor, including Inaugural Address.
1968
August Reagan waited until the Republican Convention in Miami Beach to announce his candidacy for President. Unsuccessful, he joined in the unanimous support for Richard Nixon for President.
1969
05/15/1969 Reagan sends in the National Guard to the University of California campus in Berkeley to restore order, after "a state of emergency" was declared in response to student unrest.
1970
November Reagan wins re-election for Governor over Jesse Unruh, The Speaker of the State Assembly.
1971
Reagan signs the California Welfare Reform Act, whose purpose was to reduce welfare rolls.
1974
Fall A consulting and public relations firm, founded by Michael Deaver and Peter Hannaford, begins the long ground work for a presidential campaign. Hannaford & Deaver book speeches, write newspaper columns, and radio commentaries for Reagan.
Fall Reagan declined offers from the Ford Administration to become Ambassador to the Court of St.James, Secretary of Transportation and, later, Secretary of Commerce.
1975
11/20/1975 - Reagan announces his candidacy for President for the 1976 election against a sitting President - fellow Republican Gerald Ford. He would just lose the race for the nomination but his strong showing laid the groundwork for the 1980 election.
1976
08/19/1976 In a spontaneous gesture, President Ford signals to Governor Reagan to come down and speak to the Convention. Reagan made his way down to the podium and spoke without a script in a memorable Address to the Republican National Convention in Kansas City.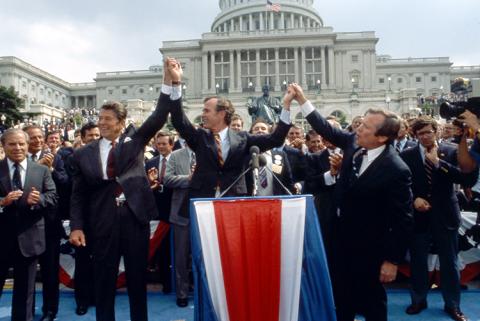 1979
11/13/1979 Reagan announces his candidacy for the Republican nomination for President. He was the tenth and last Republican to enter the race.
1980
02/23/1980 "Ambush at Nashua" debate with George Bush. Debate also included Rep. John Anderson, Sen. Howard Baker, Rep. Philip Crane, and Sen. Bob Dole as well as Bush.
03/18/1980 Republican debate in Chicago with Bush, Anderson, and Crane.
04/24/1980 Republican debate in Houston with George Bush.
07/16/1980 Reagan won the nomination for President at the Republican National Convention in Detroit.
07/16/1980 Gerald Ford, who decided not to contest the nomination, was offered the post of Vice President on the "dream ticket," but declined the nomination in a face-to-face meeting with Reagan.
07/16/1980 Spurned by Ford, Reagan offered the Vice President nomination to George Bush.
09/21/1980 Reagan-John Anderson (Independent Candidate) Presidential Debate. President Carter declined to participate.
10/28/1980 Reagan and President Carter Debate.
11/04/1980 In a landslide electoral college victory, Reagan was elected the 40th President of the United States.