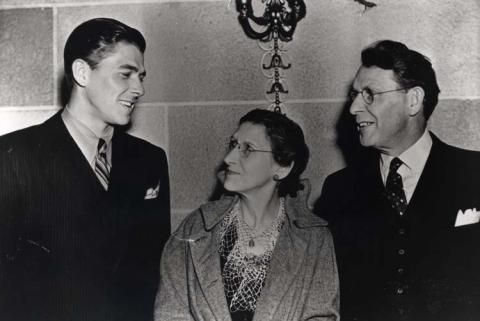 Ronald Reagan's Parents
John Edward "Jack" Reagan and Nelle Clyde Wilson.  Jack was born in Fulton, Illinois on July 13, 1883 and raised in the Catholic Church.  Nelle was born in Fulton, Illinois on July 24, 1883.  The two were married in November 1904.  Jack worked as a salesman most of his adult life, and suffered from alcoholism.  Nelle was deeply religious, and active in the Disciples of Christ Church.  They had two sons, Neil (September 16, 1908) and Ronald.  The family was impoverished, but after Ronald achieved success as an actor, he was able to move them to California and purchase a home for them.  Jack died on May 18, 1941 of a heart attack. Nelle died on July 25, 1962 of complications of Alzheimer's Disease.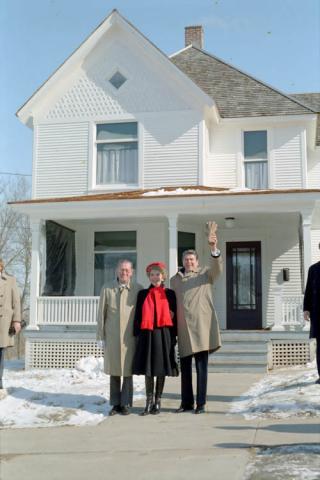 ---
Ronald Reagan's Brother
Neil "Moon" Reagan was born in Tampico, Illinois on September 16, 1908.  He attended Eureka College and graduated with a B.A. in Economics.  In 1935 he married Ruth Elizabeth "Bess" Hofmann.  He moved to California where he worked as a television producer and advertising director, and also made appearances in movies.  He was active in Republican politics.  He died of heart failure on December 11. 1996.
---
Ronald Reagan's Children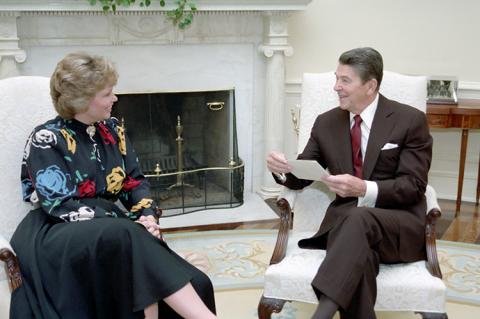 Maureen Elizabeth Reagan
Born on January 4, 1941 to Ronald Reagan and Jane Wyman in Los Angeles, CA. 
Schools: Marymount Secondary School in Tarrytown New York; Marymount University in Virginia (attended).
Marriages: John Flippone (m. 1961, d. 1962); David Sills (m. 1964, d. 1967); Dennis Revell (m. 1981)   
Children: Rita Merimbe Revell.  The Revells fostered and eventually adopted Rita, a Ugandan orphan who lived with them from the age of 8. 
Occupations and Interests:
Known for her political activism in the Republican Party, and as a champion for women's rights Maureen also pursued various occupations in and around the entertainment industry, including acting, public relations, speaker, author and radio talk show host.  She ran twice for political office.  In 1982 she ran for the United States Senate but was defeated by Pete Wilson in the Republican primary.  In 1992 she ran for California's 36th congressional district, but was narrowly defeated by Joan Flores in the Republican primary.  She held a number of political positions including: Consultant to the Chairman of the Republican National Committee on women's issues; Co-Chair of the Republican National Committee; President, International Women's Leadership Exchange; Delegate to the 1985 World Conference of the United Nations Decade for Women; and United State Representative to the United Nations Commission on the Status of Women
Personal:
In 1989 she released her book First Father, First Daughter: A Memoir, which includes her life as the child of famous actors, her experience with domestic abuse and her observations about the Reagan administration from her unique perspective.

In 1996 she was diagnosed with malignant melanoma.  While undergoing treatment, Maureen also devoted much of her time to raising money for Alzheimer's research, sometimes putting this interest above her own health.  In late 2000 the melanoma was found to have spread, and she died of the disease August 9, 2001.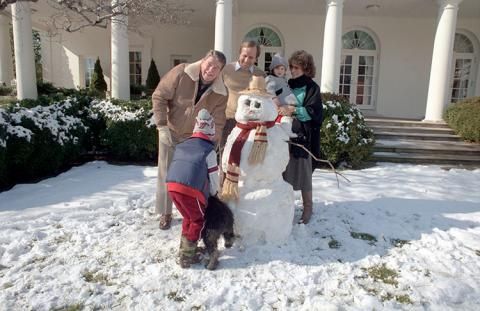 Michael Edward Reagan
Born on March 18, 1945 to Irene Flaugher in Los Angeles, CA.  Hours after his birth he was adopted by Ronald Reagan and Jane Wyman. 
Schools: Judson School in Scottsdale, AZ; Arizona State University (attended); Los Angeles Valley College (attended).
Marriages: Pamela Putnam (m. 1971, d. 1972); Colleen Stearns (m. 1975)
Children: Cameron and Ashley.
Occupations and Interests:
Michael has had a varied career in various occupations in and around the entertainment industry, including acting.  He is best known for his syndicated radio shows and outspoken opinions about political and social matters.  He is also a prolific author, with a number of books and many articles to his credit. He is a sought-after speaker and maintains his media presence with his radio show and guest appearances on various broadcast and digital platforms.
Personal:
His autobiographies, 1988
Michael's autobiographies, On the Outside Looking In (1988) and Twice Adopted (2004) detail his difficult childhood, including being sexually abused as an 8 year old, feelings of rejection as an adopted child and his religious convictions.  He has had a number of legal problems which have been widely publicized. Michael has been active in charitable activities, many dedicated to the well-being of families, victims of childhood abuse and Christian concerns.  They include: The Reagan Legacy Foundation; John Douglas French Alzheimer's Foundation; My Stuff Bags Foundation; Michael Reagan Center for Advocacy and Research.
Christine Reagan
Born and died on June 26, 1947 to Ronald Reagan and Jane Wyman.  Her birth was apparently 4 weeks premature, and sources differ as to whether she was stillborn or whether she lived for a few hours after birth.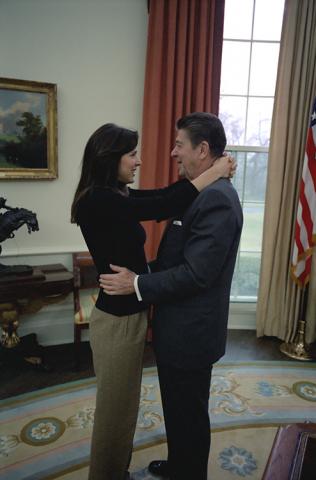 Patricia Ann Reagan (Patti Davis)
Born on October 21, 1952 to Ronald Reagan and Nancy Davis Reagan in Los Angeles, CA.
Schools: John Thomas Dye School in Bel Air, CA; The Orme School in Mayer, AZ; Northwestern University (attended); University of Southern California (attended).
Marriage: Paul Grilley (m. 1984, d. 1990)
Occupations and Interests:
Patti Davis has worked in and around the entertainment industry for her entire career.  She changed her name from Reagan to Davis as a means of gaining an independent identity.  Best known as a writer, she also worked as a model, actress, songwriter, filmmaker and producer.  As a writer, she first gained prominence with the 1986 publication of Home Front, a novel based in part on her own life.  She went on to write another 12 books, including a memoir The Way I See It.  She has also penned screenplays and authored many articles.  Her book The Long Goodbye: Memories of My Father is an autobiographical account of her re-connection with her parents as her father slowly declined from Alzheimer's Disease. 
Personal:
Before her marriage to Paul Grilley, Patti Davis had relationships with Eagles guitarist Bernie Leadon, actor Timothy Hutton and actor Peter Strauss.   In 2018, she revealed that she had been the victim of a sexual assault by a music executive, during a meeting where she expected to discuss placing her original music.   In 2011 she founded Beyond Alzheimer's a support group for caregivers and family members of people suffering from Alzheimer's and other forms of dementia.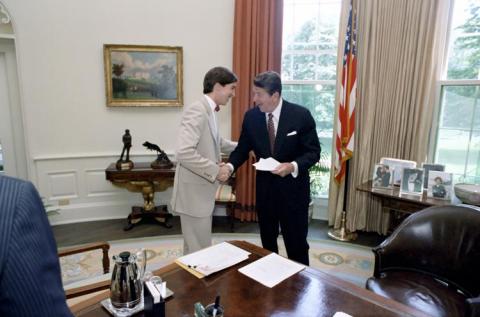 Ronald Prescott Reagan
Born on May 20, 1958 to Ronald and Nancy Reagan in Los Angeles, CA.
Schools: Webb School of California (attended); Yale University (attended)
Marriages: Doria Palmieri (m. 1980 until her death in 2014); Federica Basagni (m. 2018)
Occupations and Interests:
Ron Reagan has spent his entire career in the entertainment industry.  In 1976 he was in the Joffrey II Dancers, which is part of the Joffrey Ballet.  During the 1980s he made many television appearances. After his father left the White House, Ron became more politically active, and went on to work as a television journalist, talk show host, narrator and host of documentary type programs.  His talk show The Ron Reagan Show aired on Air America Media for 2 years.
Personal:
After he joined the Joffrey Ballet, speculation arose over his sexuality, which has persisted to this day, in spite of his marriages and recent statements that he is heterosexual.  Ron Reagan holds mostly liberal philosophies and is actively opposed to Republicans.  In 2011, he published his memoir My Father at 100.  He has also written many articles about his family, his father, politics and current events.   Among his many speaking engagements was his 2004 address to the Democratic National Convention about the importance of embryonic stem cell research for possible treatments of Alzheimer's and other diseases.  He is an outspoken atheist, a position he has held since he was twelve years old.