Rancho del Cielo was the Reagan's small (688 acres) ranch near Santa Barbara.  The Reagans purchased the ranch in 1974, near the end of his second term as California Governor.  It was used frequently during the Reagan administration as a vacation home.  The ranch is very informal and has no central heating. The ranch was run by a very small staff keeping it in working order for President Reagan and his visits.
The President enjoyed working outdoors at the ranch whenever he visited.  A few cows, some dogs and horses roamed freely there.  The property also has a small lake where President and Mrs. Reagan canoed. The animals from the ranch and most of the Reagan family pets are buried at Rancho del Cielo. The ranch was sold in 1998 to the Young America's Foundation. In 2002 it was dedicated as a California State Landmark by the Native Sons of the Golden West.
Horses
President Reagan stabled seven horses at the ranch during his presidency:
Quarter Horses: No Strings and Dormita
Peruvian Pasos: El Primero Teniente (First Lieutenant)
Arabains: Gwalianko, Catalina, El Saraff (Alfie), and El Alamein (El Alamiein was given to President Reagan prior to his inauguration by former Mexican President Lopez Portillo.  El Alamein was trained for dressage, a style of riding in which the rider signals the horse into complex maneuvers while barely moving his legs, hands and weight.)
Dogs at the Reagan's Ranch
Golden Retriever: Victory
Irish Setter/Labrador mix: Millie
Husky: Taca
Bouvier des Flanders: Lucky (Originally kept at the White House until 1985)
The President's daughter, Patti Davis, also kept her dog, Free Bo, at Rancho del Cielo.
---
Trips of President Reagan to Rancho del Cielo, 1981-1989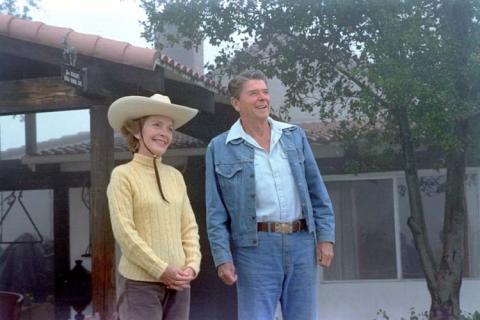 1981
February 19-22
May 22-26
June 26-28
August 6-17
August 22-29
November 23-30
December 29
1982
March 4 - 8
May 26-30
July 1-5
July 7-11
August 21-23
August 25-September 7
October 8-11
November 23-29
1983
February 28 - March 3
March 31-April 3
May 6-9
June 30-July 5
August 15-21
August 26-September 2
November 23-27
1984
February 7-12
April 19-22
July 28-August 12
November 7-11
November 17-25
1985
February 13-17
April 5-14
August 11-20
August 23-September 2
November 26-December 1
1986
February 12-15
March 27-April 6
June 25-June 30
August 16-August 26
August 29-September 7
November 1-3
November 26-30
1987
April 11-20
August 13-25
August 29-September 6
November 24-29
1988
February 13-17
April 1-10
July 17-24
August 16-23
August 27-September 6
October 28-October 30
November 21-27